Even though the premier of a new SNL season historically underwhelms (or occasionally frightens) me, I'm excited about tonight's new episode. There is enough cast turnover to make things interesting! This is where SNL becomes the only sport I watch. Which of the new performers will rise or fall? What characters are gone for good? How many opportunities and talented people will be wasted?
THE PERFORMERS WHO WERE FIRED/QUIT THIS SEASON:
Will Forte.
I'm glad he's gone. Anyone who reads this blog, knows he's the cast member who consistently irks me most. I certainly didn't dislike him as much as Jim Bruer (sorry Goat Boy fans), and I'm honest enough to admit he had good moments…even a few brilliant scenes. But 8 seasons is a long time and his misses were physically painful and increasingly frequent. Even though Kristen Wiig is still on the show I can hope this means no more Gilly sketches (since his mustache talked more than the main character).
Jenny Slate.
One season wasn't enough for me to have strong opinions about her. I'll admit I had to double-check if it was Jenny Slate or Nasim Pedrad in many cases. She's probably best known for using the F-word in her first sketch (which I liked) and the Tina-Tina Chaneuse informercials which were brought back too many times. But overall, I thought Jenny Slate had potential. Especially if her web video
Marcel the Shell with Shoes On
is any indication. That was better than anything she did on the show! Maybe they should have let her do some digital shorts.
THE NEW PERFORMERS ARE: Vanessa Bayer, Paul Brittain, Taran Killam, Jay Pharoah.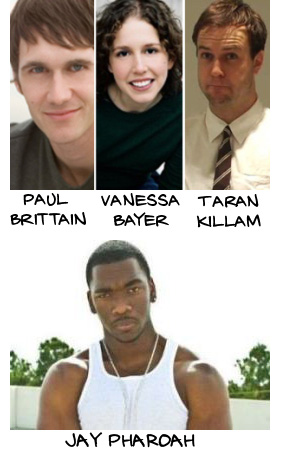 I'm not familiar with any of them, which is good. That means they have a clean slate. Sometimes with
Upright Citizens Brigade
performers, like Rob Riggle, I want them to be as funny on SNL as they were doing improv and it doesn't translate. Then again, Amy Poehler is one of the best people ever on the show, so you never know.
So, I'm hoping for the best…yet not expecting too much!
MARCEL THE SHELL WITH SHOES ON from Dean Fleischer-Camp on Vimeo.